King Richard 1st (Lionheart) - Part 2
En route to the Holy Land, Philip and Richard quarrelled probably because Richard had been engaged to Philip's sister Alice for 20 years and seemed reluctant to marry her probably due to his belief that she had been his father Henry's mistress. To further complicate the situation, his mother Eleanor arranged for Richard to marry Berengaria of Navarre, first-born daughter of King Sancho VI of Navarre and she was crowned Queen of England. Ironically, she would become the only reigning queen of England never to set foot in the kingdom. Further into their crusade, Richard and Philip had patched up their quarrel and together they captured Acre. It was here that Richard got embroiled in a bitter quarrel with Duke Leopold of Austria in relation to sharing out the spoils of war and he even managed to fallout with Philip once again.
In August 1191, Philip left for home and Richard continued the crusade managing to capture Arsuf and to march on Jerusalem, twice coming within view of the Holy city itself but unfortunately Saladin's defending army was just too powerful and the crusade ended in a truce under the Treaty of Ramla of 1192 which stated that Jerusalem would remain in Muslim hands but allow access to Christian pilgrims who wanted to visit the city. Although Richard had not managed to achieve all his ambitions in the Holy Land, the victories he had won had managed to re-establish a crusader kingdom in the Holy Land.


Richard Set Sail for Home in September 1192 but bad weather forced his ship to put in at Corfu, in the lands of the Byzantine Emperor Isaac II Angelos, who had objected to Richard's annexation of Cyprus, formerly Byzantine territory. Richard disguised himself as a Knight Templar and set sail from Corfu however, unfortunately, his ship was wrecked near Aquileia, forcing Richard and his party to take a dangerous route and they set off to cross central Europe by land. Right: Richard leaving the Holy Land (19th century drawing)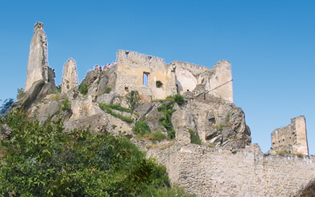 It was on his way to seek refuge with his brother-in-law Henry of Saxony that Richard was captured shortly before Christmas 1192, near Vienna, by Leopold V, Duke of Austria. This was particularly awkward because Richard had personally offended Leopold by casting down his standard from the walls of Acre during the crusade. Duke Leopold had Richard imprisoned at Dürnstein Castle in spite of the fact that the detention of a crusader was contrary to public law. For this reason, Duke Leopold was soon excommunicated by Pope Celestine III.

Left: The ruins of Dürnstein Castle where Richard was held captive


In 1193, Richard was handed over to Henry VI, Holy Roman Emperor who imprisoned him in Trifels Castle. Henry VI, needing money to raise an army and assert his rights over southern Italy, continued to hold Richard for ransom. As a result of this, Henry VI was also excommunicated by Pope Celestine III for the continued wrongful imprisonment of Richard. Richard refused to show deference to the emperor and declared to him, "I am born of a rank which recognizes no superior but God". - King Richard I Part 3 - King Richard I Part 1