Greatest Medieval Castles

There is no single definitive list of the greatest castles in the world, be they medieval or otherwise and that's because castles are viewed subjectively by many people rather than objectively. In other words it's all a matter of opinion.
Some people view a castle as being great because of its role in significant, historical events whilst others contend that the architecture alone makes a castle great. You could also adopt the view that a castle built in a magnificent location - such as Bamburgh Castle in England or Neuschwanstein Castle in Bavaria - commands the highest respect for its architects and builders and therefore makes a castle 'great'.

We have researched and created our own lists of what we believe to be amongst the greatest medieval castles.
We hope you will enjoy reading about them ....
Greatest Medieval Castles - Britain & Ireland
Greatest Medieval Castles - European Mainland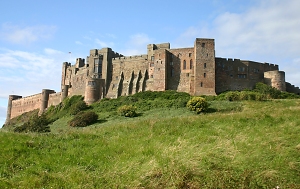 Photograph left: Bamburgh Castle

This castle has to be in one of the best locations for a medieval castle anywhere in Europe. Set on the coast, overlooking the sea and with a commanding view of the town this castle is an imposing sight from any angle of approach. It dominates the skyline.

Add to this a history going back 1,000 years with legends and ghost stories and it has to be a contender for the list of 'greatest medieval castles' in all of Britain & Ireland.