King Edward I - Part 3
By the age of around 16 or 17 years old, tensions were already beginning to surface between Henry and Edward; Edward's hunger for power was pushing him to irresponsible excesses and creating much bad feeling in the country. Edward frequently travelled with a large group of up to 200 knights and there are various stories of the time of their thuggish and indeed violent behaviour. Accounts of the time provide evidence of this bad behaviour and of the damage that was caused during these thuggish outings. During his twenties, Edward gradually grew in maturity and when Edward's father Henry III died, Edward was in fact away on crusade in the Holy Land; he did not, however, hurry back
to England but continued with the crusade for a further two years.
Edward was 33 years old when he ascended to the throne and 35 years old at his coronation in the year 1274. By this time he had shown himself to be an impressive warrior having secured victories over the Welsh and the rebel English barons most notably Simon de Montfort, Edward's Godfather who was slain at the Battle of Evesham during the 2 year civil war. He had also managed to inflict defeat upon Muslim infidels in the course of his crusade. All of this showed that Edward was far more suited to being a king than his father Henry had ever been.

Right: Vintage engraving showing the last stand of Simon de Montfort, 6th Earl of Leicester at the Battle of Evesham on the 4 August 1265. The Battle of Evesham was one of the two main battles of 13th century England's Second Barons' War. It marked the defeat of Simon de Montfort, Earl of Leicester, and the rebellious barons by Prince Edward.


Edward was only just crowned king when the Welsh prince Llewellyn ap Gruffydd who had not attended his coronation, refused to swear fealty to him not just once but on three occasions. Outraged, Edward who possessed a fiery Plantagenet temper, gathered one of the largest armies ever assembled by an English king and completely subjugated
Llewelyn, stripping him of most of his lands and authority although he did allow him to keep his title Prince of Wales. In many ways this Welsh uprising was a catalyst for a spate of castle building in North Wales which, it was hoped, would hopefully keep the unreliable Welsh in check. This was probably the most advanced exercise in castle building in the whole of mediaeval Europe. Edward constructed defensive castles around Snowdonia in the Welsh heartlands in 1278. His ambitious castle building programme became known as the 'Ring of Iron' with the first phase focusing on the north coast to include Flint, (photo left), Rhuddlan, Builth and Aberystwyth castles. All were built with huge round towers and curtain walls, concentric defences and a moat according to the latest principles of military architecture.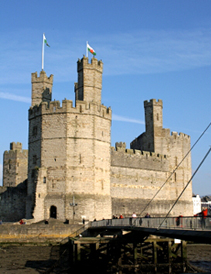 The uneasy truce between England and Wales continued until 1282 when Llewellyn's brother Dafydd rose up against Edward obliging Llewelyn to join him in yet another war with the English! For Edward this was the last straw and with his usual characteristic decisiveness he once again ordered massive forces into Wales but this time he intended to completely conquer this troublesome country. It was only a matter of time before Llewelyn was killed in battle, his head being presented on a platter to Edward. Dafydd was captured soon after and later executed; Wales was at last brought completely under English rule in March 1284, becoming henceforth subject to English administration. This prompted Edward to begin a second phase of castle building which culminated in the mighty Caernarfon Castle, begun in 1283 and was in fact the seat of English government in Wales as well as being a royal residence.

It was in this magnificent castle (photo right) that Edward's son was born in 1284 and given the title Prince of Wales - the first time this title was given to an English prince.